I am a disabled woman who has used service dogs since 2005.  I have had three service dogs over that time period.  I used to be agoraphobic (afraid to leave my house) but my current service dog in training, Hestia, has enabled me to overcome that.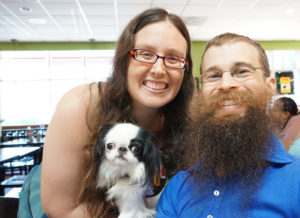 This blog celebrates our adventures in life together, which are often documented by my disabled husband Brad through his moving and still pictures.  I have several blind or low vision friends, so you will notice that I describe the photos and videos along the way (an easy way to increase accessibility).
I have bipolar disorder, PTSD from childhood bullying, agoraphobia, and autism spectrum disorder.
I am a doctor, but the PhD kind, not the medical kind. 🙂  I have my BS in Biology, and an MS in Genetics and Molecular Biology from UNC Chapel Hill.  I have my PhD in Environmental Science, Policy, and Management from UC Berkeley.
Apart from being really into service dogs, service dog gear, and service dog meet ups, I am also a Harry Potter fan (Ollivander and Hestia are characters in the series).  I enjoy walking, re-reading books, and watching funny videos.  I'm a fan of court and cop TV shows.
I'm heavily involved with Psychiatric Service Dog Partners, and NAMI (National Alliance on Mental Illness), as well as being an active dog trainer and dog class taker with the Charlotte Dog Training Club and Courteous Canine.
My outfits tell you a little about my personality. You'll pretty much see me only in brightly colored dresses and skirts because they are so comfortable and vibrant.  Plus dresses are a complete outfit with only one reach into the closet!